Sections:
Related Sites:
Legal Stuff: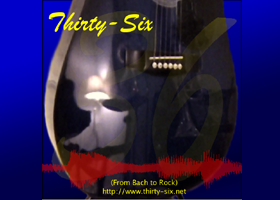 Thirty-Six, quite possibly America's most unknown band, has just come to Silicon Valley Records. Their self-titled first CD is in the final stages of editing, and will be available in a few months through various online channels.

We are currently investigating various sales channels. Our promotion plans include seeding local college stations, web advertising on online music sites, online music sales, and careful seeding of electronic copies to reviewers. We have several other angles that we can't talk about yet, but we'll say more about them if they pan out.
Headlines
---
One-Man Multitrack Band Parts 2 & 3
November 12, 2003
Parts 2 and 3 of our One-Man Multitrack Band series are posted for viewing from our articles page.

You'll also notice that we tweaked our look a bit earlier this week. This is the first in a long string of improvements we have planned. Watch this space for more details.

New Website
June 8, 2003
Our new website is finally ready. Stay tuned for exciting news and information about your favorite Silicon Valley Records artists.

In addition to news about Silicon Valley Records, our staff writers will be writing articles about independent music production as we follow Thirty-Six from the first inspiration to the last note, including production, replication, distribution, and promotion.

Coming Soon: Thirty-Six.net
June 7, 2003
We are preparing to roll out two new websites: the Silicon Valley Records site (http://www.svrecords.com) and Thirty-Six.net, a web site devoted to the group Thirty-Six.